Filmed: May 18, 2022 |  Aired: November 16, 2022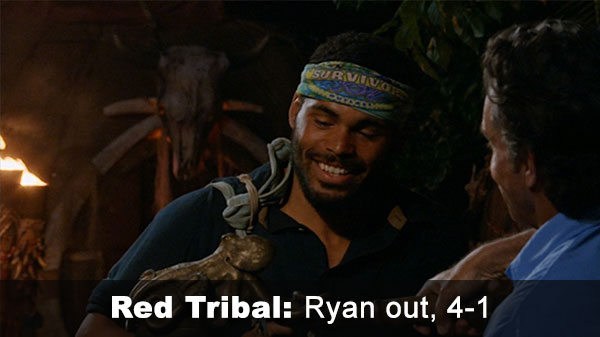 Ep.9 RC/IC: "Crocodile Rock" - As seen in Ghost Island, two teams, with the last-standing for each winning immunity (Karla, Cody) and the last overall (Cody's team) winning reward: make-it-yourself PB & J.
Ep.9 blue team voted out: James, 4-1 over Owen, in a convoluted scheme where Noelle used her vote steal on Owen, to lull James into complacency to not play his KIP advantage. It leaves the game with him.
Ep.9 red team voted out: Ryan, 4-1 over Cassidy, in a normal vote.
Episode 9 scoring notes
*Noelle's vote steal: Owen was present, but had no vote, so no TCA for him. Noelle voted twice, both correctly, so 2 TCA, 2 VFB for her. Everyone saw 5 votes (including Owen).
Vote count (blue team):
James received 4 votes, from Karla, Noelle, Noelle*, and Sami (voted out, 4-1).
Owen received 1 vote, from James.
Vote count (red team):
Ryan received 4 votes, from Cody, Cassidy, Gabler, and Jesse (voted out, 4-1).
Cassidy received 1 vote, from Ryan.
Glossary of terms